Renewal of the credentials (HTCP) is required every five years. The Practitioner Renewal Application should be submitted 30 days prior to your certification renewal date. Please do not submit more than 90 days before the expiration date.
General Information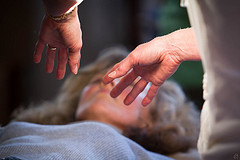 There are three steps in the application for renewing your HT Practitioner Certification with Healing Touch Certification (HTC):
1. Completion of Application Requirements
2. Submission and acceptance of an Application Packet
3. Achievement of a passing score on The Healing Touch Certified Practitioner Entry Level Proficiency Exam.
For more information on the exam click here.
Application Review
Applications are reviewed by at least two members of the Certification Review Panel. Applications are evaluated based upon completion of all requirements outlined for practitioner credential standards. Certification approval is at the discretion of the Certification Review Panel.
Healing Touch Certified Practitioner Certification Renewal Standards official policy text available here.
Questions
Any questions you have regarding the application after you review the packet may be sent to certification@healingtouchcertification.com.
Certification Renewals for Lapsed Certification Policy:
If you have let your HTCP certification lapse, you can submit a renewal packet for up to 2 years past your expiration date. All information must be completed and continuation education hours must be current within the previous 6 year period. After 2 years post lapsing of certification, you will need to provide a current case study and a letter of recommendation from a QM in addition to the competition of the renewal packet.
New late fee for Practitioner Renewal and Instructor Renewal Packets
Starting September 1, 2012 there will be a $50 (USD) late fee for all packets sent in after their renewal date. Packets must be received online or post marked by your renewal date to avoid the $50 late fee. This fee is in addition to the standard renewal application fee of $125.00.
Practitioner Renewal Application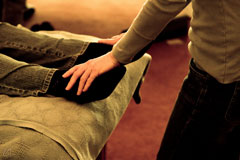 The application contains all the information and criteria needed in order to apply. Any questions you have regarding the application after you review the packet may be sent to certification@healingtouchcertification.com.
This website provides the ability to apply digitally. For instructions, check out the FAQ - Submitting Digitally tab. HTP encourages digital applications as it saves time, printing and postage.
The Practitioner Certification Renewal Application and corresponding forms can be downloaded below. Forms are set up as Microsoft Word templates. They can be downloaded, saved to your computer and used as many times as needed. Each form allows for the appropriate fields to be filled in. Use the tab key to move from one field to the next.
For mor information on continuing education requirments, please see the FAQs for Continuing Education here.
Current Packet: Revised October 2020
Application Fees:
Practitioner Certification Renewal - $125.00 (non-refundable)